St. Raphael 7, East High 5 - May 1, 1951
On This Page: St. Raphael Tops East, 7-5, For 4th Straight
Box Score
St. Raphael Tops East, 7-5, For 4th Straight1
Academy Nine Wins On 4-Run 8th Frame
St. Raphael Academy's baseball team shaded East High, 7-5, for it's fourth straight Eastern Division triumph yesterday at McCoy Stadium. The victory enabled the Saints to maintain their first place tie with De La Salle of Newport.
It was the third defeat for East in four league starts. The Redjackets play an exhibition fame this afternoon with Moses Brown at the Moses Brown Field.
A four-run outburst in the eight inning and some great relief pitching by sophmore Johnny Fiori [Paul Fiore] spelled victory for St. Raphael.
Fiori Fans Side
Fiori came on in the last of the ninth to replace the tiring Bill Parenteau after Tom Ingham and Pete Kosty led off for East with solid singles to center. Fiori walked the first batter to face him, loading the bases, but then settled down and struck out three in a row for the ball game.
For five innings it was a pitchers' duel between Parenteau and John Lund of East. Lund gave up all of the Saints' seven hits before giving way to sophmore Stan Kleon in the eighth, while Parenteau was touched for nine blows by East.
However, Lund was generous with bases on balls, pasing eightr, two of which gave the Saints their first runs of the game in the sixth to break the scoreless duel.
Lund had retired Jigger Higgins and Ralph D'Ambra on fly balls before walking Joe Dragon and Parenteau. Roy Guarino then rapped a ground ball into the hole between first and second. Bob Sullivan went over to field the ball but threw wild to Lund covering first, both Dragon and Parenteau scoring.
Coach Alex Nahigian argued with Umpire Baker that only one run should have scored on the overthrow, but Baker permitted both runs to count, giving St. Raphael a 2-0 lead.
East Gets Five In 7th
St. Raphael picked up another run in the seventh before East came up with five in its half of the frame. Stan Ross and Richard led off for the 'Jackets with singles to center. Sullivan forced Richard at second, but Ingham doubled to score Ross. Sullivan scored when Kosty was safe on an error.
Parenteau got Will Chabot on a swinging strikeout, but the pitch was in the dirt and got away from Catcher Chet Hanewich, Richard scoring on the play. Ronnie Thibodeau and Lund singled home two more runs for East before Denny Haworth fanned to end the inning.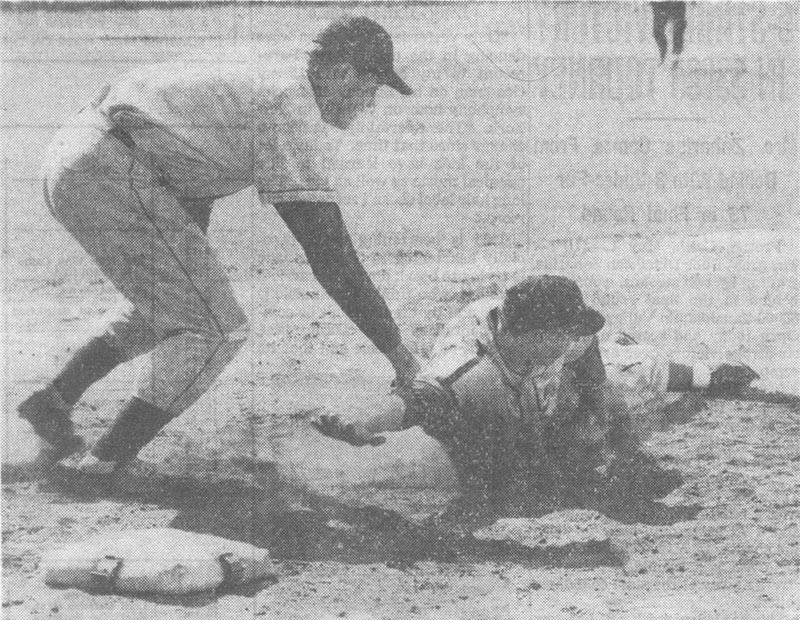 NIFTY PICKOFF: George Lovett (left), St. Raphael first baseman, puts the tag on Stanley Ross of Pawtucket East after the Saints' pitcher, Billy Parenteau, picked him off in the first inning of yesterday's game at McCoy Stadium. St. Raphael won the game, 7-5.
St. Raphael, however, came back in the top of the eighth for four runs and its winning margin. Guarino and Agostini singled to start the rally. Bill Lennedy, former Durfee High star, blasted a 345-foot double off the right-centerfield fence to score Guarino.
Agostini came home on Lovett's outfield fly. East failed to pick Kennedy off third on Hannewich's ground ball and D'Ambra followed with a double to center to score Kennedy and Hannewich. Stan Kieon then came on for East to retire the side.
St. Raphael

| Name | POS | AB | R | H | PO | A | E | RBI | 2B | 3B | HR | SB | HBP |
| --- | --- | --- | --- | --- | --- | --- | --- | --- | --- | --- | --- | --- | --- |
| Guarino, R | rf | 5 | 1 | 1 | 2 | 0 | 0 | 0 | 0 | 0 | 0 | 1 | 0 |
| Agostini, G | ss | 5 | 1 | 1 | 3 | 2 | 1 | 0 | 0 | 0 | 0 | 0 | 0 |
| Kennedy, B | 2b | 4 | 1 | 2 | 0 | 3 | 0 | 1 | 1 | 0 | 0 | 0 | 0 |
| Lovett, G | 1b | 3 | 1 | 1 | 7 | 1 | 0 | 0 | 0 | 0 | 0 | 0 | 0 |
| Hanewich, C | c | 3 | 1 | 0 | 12 | 0 | 1 | 1 | 0 | 0 | 0 | 0 | 1 |
| Higgins, J | lf | 1 | 0 | 0 | 1 | 0 | 0 | 1 | 0 | 0 | 0 | 0 | 0 |
| D'Ambra, R | cf | 5 | 0 | 1 | 3 | 0 | 0 | 1 | 0 | 1 | 0 | 0 | 0 |
| Dragon, J | 3b | 4 | 1 | 0 | 0 | 1 | 0 | 0 | 0 | 0 | 0 | 0 | 0 |
| Parenteau, B | p | 4 | 1 | 1 | 0 | 1 | 0 | 0 | 0 | 0 | 0 | 0 | 0 |
| Fiore, P | p | 0 | 0 | 0 | 0 | 0 | 0 | 0 | 0 | 0 | 0 | 0 | 0 |
| Totals | | 34 | 7 | 7 | 28 | 8 | 2 | 4 | 1 | 1 | 0 | 1 | 1 |
| | 1 | 2 | 3 | 4 | 5 | 6 | 7 | 8 | 9 | Total |
| --- | --- | --- | --- | --- | --- | --- | --- | --- | --- | --- |
| St. Raphael | 0 | 0 | 0 | 0 | 0 | 2 | 1 | 4 | 0 | 7 |
| East | 0 | 0 | 0 | 0 | 0 | 0 | 5 | 0 | 0 | 5 |
Headlines and story from unidentified newspaper clipping, 2 May 1951